2024 Guest Performer: Michael Hall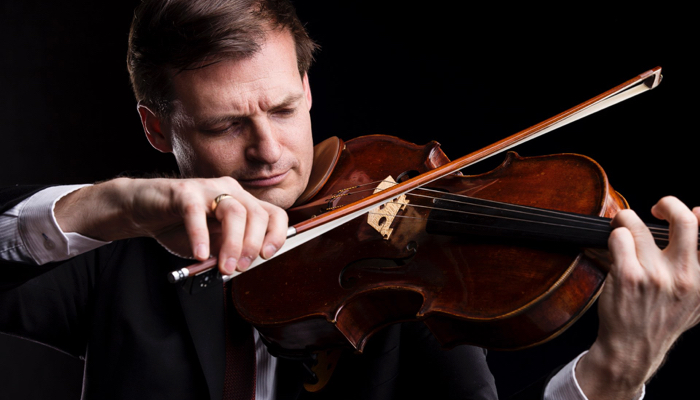 Michael Hall lives in Chicago and has performed and taught across Europe, Asia and the United States. Described by the New Music Connoisseur as "utterly masterful," and Chamber Music Today as having "superb technique," he recently made his Chicago Orchestra Hall solo debut performing the world premiere of Kim Diehnelt's "Montegar," and concluded a recital tour to Vienna, Austria and Udine and Tolmezzo, Italy. Hall has been a featured performer at the Thailand International Composition Festival in Bangkok, the Positano Chamber Music Festival in Italy, the Vianden International Chamber Music Festival in Luxembourg and the Composer's Concordance Series in New York City. January 2018, Hall gave the world premiere of Stacy Garrop's Viola Concerto -
Krakatoa,
with the Bandung Philharmonic in Indonesia.
Twice he has presented world premieres at International Viola Congresses at Minneapolis and Reykjavik, Iceland, performed at the 2014 Primrose International Festival in Los Angeles, been a five-time featured performer at the UMKC Summer Composition Workshop, and presented to critical acclaim the North American premiere of Chen Yi's, Xian Shi, the first viola concerto written by a Chinese composer, with the Chicago Composers Orchestra, and earlier with the Chiang Mai Philharmonic in Thailand. Additional performances include solo appearances in Bali, Jakarta, and Singapore, the 2018 New Music Gathering, Boston Conservatory at Berklee, the Bandung Philharmornic in Indonesia, New Music Chicago Series, Constellation appearance with Transient Canvas, Thirsty Ear Festival, and the US premiere of Stacy Garrop's Viola Concerto
Krakatoa
with the Baroque on Beaver Island Music Festival in Michigan.
Compositions written for Michael Hall include four recently released commercial recordings: Narong Prangcharoen's Antahkarana, Mara Gibson's Canopy and James Mobberley's
Subject To Change Without Notice
, which received accolades from Gramophone Magazine, American Record Guide, Fanfare Magazine, the NewMusic Box and "I Care If You Listen." Other notable solo premieres have included works by Stacy Garrop, Eric Moe, Mary Kouyoumdjian, Marta Ptaszynska, Adam Greene, Matthew Burtner, Antonio Celso Ribeiro, Rob Deemer, Michelle McQuade Dewhirst, Christian Ellenwood, Jean-David Caillouet, David Vayo, Sharon Hartanto, Seth Boustead, Eric Malmquist and Yu Pengfei. In addition to presenting the Asian premieres of works by Elliott Carter, Zhou Long, Shulamit Ran and Nico Muhly, Hall has championed the music of Alfred Schnittke, Stephen Paulus and Kee Yong Chong. Commercial recordings can be found on the Delos, Centaur, Acoma, Clarion, Vienna Modern Masters, Albany Records, and Navona Recordings.
Hall has served on the faculties of VanderCook College of Music, Illinois Wesleyan University, Chicago Academy for the Arts, Guilford College, Chicago Youth Symphony Orchestra and taught adjunct at the University of Chicago. Additionally, Hall is Co-Artistic Director and Director of Education for the Bandung Philharmonic in Indonesia, and serves on the Board of the American Viola Society. Hall received his Doctorate degree from the University of North Carolina at Greensboro, graduated from the University of Cincinnati College-Conservatory of Music with a Masters and received his Bachelor degree from Ball State University. His teachers include Michelle LaCourse, Scott Rawls, Peter Kamnitzer, Linda Geidel and the LaSalle and Tokyo string quartets.